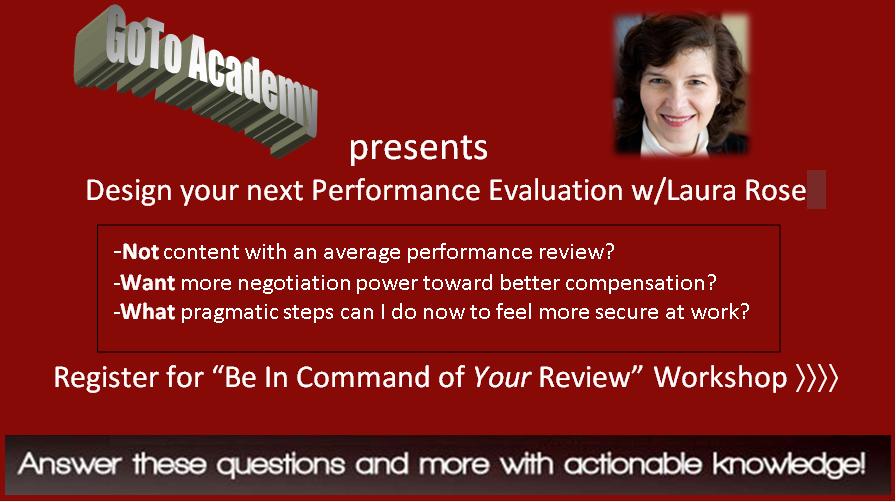 Are you in continuous fear of the next company re-org cycle?
Panicking before your yearly performance evaluation meeting?
Want to get farther ahead, but don't know how?
What if, in three hours, you could have an actionable plan to eliminate the dread and gain more negotiation power?
What if, in three hours, you could know how to get the performance rating you designed?
What if, in three hours, you could know who specifically network with to get farther ahead?
What would those three hours be worth to you?
In this class, we cover the materials and worksheets to accomplish all of the above.
You will receive tools and templates to:
1)      Clarify your personal business goals
2)      Design your personal networking plan
3)      Create an appropriate communication plan with your manager
4)      Outline the proper questions and answers for your one-on-one management meeting
5)      Define your imperatives and non-negotiable lists for a balanced and stress-free life
More detail content
Topic 1: How can we take more command of our performance rating process?
Topic 2: Follow-up interview: What makes up a Personal Business Commitment plan? Who creates it? Who approves it? How does it fit in the performance rating process?
Topic 3: How would an Individual Development Plan and Individual Networking plan fit in the performance rating process?
Topic 4: How would you go about designing an "Above Average" or "Exceptional" Performance Rating? All these topics are discussed with some detail in my 3 hour workshop. Workshop is also available for groups.
In my workshop, we will actually be working through the following worksheets:
Personal Business Commitment worksheet
  Individual Development Plan
 Calendar of quarterly performance review with managers (as well as intermediary one-on-one meetings)
 Review recommended questions to ask at your one-on-one meetings
 What to initiate in your quarterly and yearly performance reviews
  Sample SMART goals
  Individual Networking Strategies — for business networking
  Building the habit of keeping your Achievement folder up to date
  Building the habit of keeping your resume and professional portfolio (press kit) up to date
How much is your career worth?
Can you afford not to invest 3 hours (and $27.00) for the above tools?
Team Lead offer:  With your team lead paid registration, you can comp-in your entire team under that same ticket.  Only requirement is to send in the list of contact info and names of your invited team mates.
Corporate offer: This workshop can be customized and re-scheduled for individual company policies and during their on-site hours as well.

Or cut/paste:  http://commandyourperformancereviews.eventbrite.com
Class will be held on Saturday, Oct 13,
9:00am-12:00pm
-(75 minutes of content; 90 minutes of hand-on coaching with the worksheets)
Class will be a teleconference call (at your favorite location).
Class materials will be on-line for registrants at time of class.
E-book version (includes along with all materials and speaker notes) will be available at a cost of :
• $97.00 for those not registered
• $47.00 to those registered. (limited time only)
 Presentation Slides and Speaker Notes
Worksheets
One-on-one consultations are available for paid registrants within 2-weeks after class (added $150 value)
Bonus eBook:  Art of War for the GoTo Professional (added $27.00 value)

Workshop rate of $27/person
Workshop rate of $17/person
Workshop rate of $10/person