All the Tools You Need to Get Ahead
Keeping a fast-paced, professional career can be challenging. There always seems to be too much to do, too many ideas to decide upon, and not enough time in a day. And sometimes it's really hard to tell what career and business advice applies to you and what doesn't.
We get that. We're in the trenches with people building professional careers every day and we're grew up in this environment, too.
Wouldn't it be nice to have access to a secret vault of resources that help you save time and plan smart, plus give you actionable steps to kick-start your advancement and demystify what it takes to successful? I mean, that's practically everything you could ever need to be successful and advance in your chosen profession? The good news is, it's not a secret!
Our IT Professional Development Toolkit combines three of learning medias into one powerful set of strategy, insight, and actionable ideas so you can get momentum in career today. We have a knack for taking big ideas and converting them into smart, sound, and actionable ideas.  We have practice scenarios in real-world, real-life working environments to inspire the required change in you and those surrounding you.
Rather than give you cookie-cutter advice that is supposed to fit everybody, our tools help you start figuring out what will work for you and your business. One size fits all fits no one.
The bad news? There's homework. But really, you can't expect to make fast-paced advances without doing something differently than your status-quo!
Three Products That Address What Every Career Need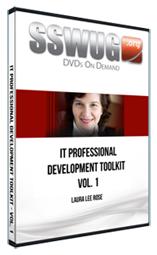 The first product is our popular QuickStart DVD Kit. This kit features our uniquely-designed Worksheets, Templates, Cheat sheets, and Professional Development and Career Planners that get creative and driven people. This DVD is packed with tools, articles webinars, videos, audios and presentations that can be used separately or together with the Professional Development Lesson Plans.
Our Professional Development Lesson Plans program you identify the Gaps in Skills so you can get ahead of the curve and become the Total Package that corporations are hungry for. This easily digestible audio course delivers clear action steps to help you understand your boss, executives and industry.  Each audio lesson is concise and bite-size (less than 10 minutes).   Each lesson have several practice exercise that can be modified to fit your specific work environment.    Each audio shows how to position the product (YOU) so that you can be, do and have everything that you want.
Our guided on-line discussion group and coaching program Discussion Board Career Triage customizes the individual multimedia QuickStart DVD kit and Professional Development Lesson Plans.  This individualized coaching gives professional inspirational oomph to help keep you going and growing.  The on-line discussion group and coaching program really hones in your personal effectiveness, capabilities, and mindset. It gives you a powerful professional foundation to build upon.
Within a few weeks, I saw a difference in my performance.  Working with Laura is an absolute joy. She brings clarity and levity to everything she tackles! Somehow, talking with her, using her project management and coaching expertise, makes larger, overwhelming projects manageable and instantly doable. My business has seen amazing, continuous improvement under her diligent watch! Every time I did what Laura had suggested, I got a positive response.
– Theresa L. Salihu, Entrepreneur
Laura Rose is a great resource to teach you professional and business skills. She excels at teaching and her approach is always ethical and respectful of her audience. The additional on-line discussion group gives additional encouragement and support throughout this journey. Because her course is so reasonably priced, you can do the same without bankrupting you.
Chris P.
Media Sales and Account Manager, AZ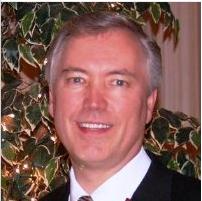 Within 5 days of taking Laura's advice, I had landed the position of my dreams. After 2 dedicated, yet unsuccessful months of job searching, as the 80/20 rule deteriorated to 1000/0, on April 5th I sought out Laura Rose, for her professional and career advice. She advised me on what employers look for in a resume, and how to better represent my experience and value. The transformation between the original and final resumes was significant and life-changing. Within 5 days (by April 16th), I had an amazing new job.
I am confident that her professional development advice, and my new resume, was what initially captured their attention–but what strikes me after the fact is that I may have needed her encouragement every bit as much as her advice."
Barry M
Senior Business System Analyst/Project Leader
But that is only the first part of the equation. Once you've got the dream offer and you are re-energized, now you need the tools to propel you the right way when the right people are paying attention so you can get the epic results you want. The IT Professional Development Toolkit tells you exactly how to do just that.
Professionalism is a skill, not some kind of innate talent. Laura Rose has helped me to prioritize areas for focus in my professional life and personal life. We discuss what I want to accomplish and how to go about getting it done. Laura has been a great help in brainstorming creative approaches to surmount obstacles. Just having regular conversations with Laura has improved my work life and home life by helping me to focus on the important things.
Laurel D, Program Manager, Wife & Mother, MA

Grow Faster, Better, Smarter
We could offer these three products separately, but we thought it made a lot of sense to give you the opportunity to buy all of them together so you can really build professional and career momentum.
Were you to buy these products separately, it'd cost you $368.  We know you're going to want all this information to help you take action that really matters; therefore,  we are bundling the IT Professional Development Toolkit for just $199, saving you $169. Invest that savings of time and money in yourself instead.
Getting Ahead of the Curve Has Never Been So Easy
Here's a quick recap of exactly what you'll get when you purchase the IT Professional Development Toolkit today:
QuickStart DVD: all of our popular downloadable and save-able Premium Career Planners, our professional tools, templates, worksheets, and our multimedia articles, audios, videos, webinars, and presentations.
 Professional Development Toolkit Lessons: our 6-part audio course with  action step worksheets and downloadable articles;  plus bonus real-world Q+A practice sessions that dive deeper into issues real IT professionals are facing
On-line Discussion Group and Coaching sessions: our one-on-one, on-line coaching sessions conducted through the discussion group forums.  Q & A are conducted in both group and individual chat sessions.
We also have the Book of Answers: Companion piece to the IT Professional Toolkit.  The Book of Answers provides all the practice scenarios and their advanced level answers.  This is a great addition to the suite. The Book of Answers is a digital product, so you'll get immediate access and be able to start taking action right away.
If you're ready to become more creative and productive at work, become more stable and valuable to your company and make more money, click the "add to cart" button below to buy the IT Professional Development Toolkit today.

P.S. – Remember, each day you wait to get started translates to ~3 days of lost productivity, opportunities and growth while you're trying to catch up. Get started today and get ahead of the curve!