Special offer for those who attended
7 Habits of Highly Effective Project Management
Because of overwhelming demand for additional information and training on Realistic Scheduling and Critical Path Analysis, I am offering two special teleconference seminars on the Basics of Realistic Scheduling.
Session 1:  12 Tips to Realistic Scheduling (Wednesday, March 21, 2:00pm EST)
Session 2: Basics of Critical Path Analysis (Wednesday, April 4, 2:00pm EST)
As you can see from follow-up articles materials that I sent last week, you can spend weeks reading.  Part of time management is finding a more effective and efficient way to gain this same information.   I will be offering two 90 minute seminars that quickly cover the desired information.   It will be a teleconference presentation; Q&A will be covered through the phone and facebook chat sessions (allowing individuals to quietly ask questions in an office environment).
 12 Tips to Realistic Scheduling

Whether you're managing a software development project or coordinating your children's soccer and dance lesson times, schedules are helpful tools for orchestrating a sequence of events. Most schedules involve a start and end date, and include tasks, task duration, and dependencies between tasks. But no matter how well you plan for a series of events, unexpected events will compete for time and threaten deadlines. When we do not handle unexpected events and the interpersonal elements well, our schedules fall apart.
Good scheduling is a combination of art and science.  My twelve tips stress prioritization, clarifying values, and comparing the relative worth of each activity.
  Basic Critical Path Analysis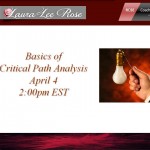 A very effective and easy way to quickly and visibly identify risks in a project is to outline the Critical Path in a visual flowchart. The workflow method can be used to analyze anything: Critical Path Workflow analysis is effective on component dependencies, process step dependencies, even resource conflicts.
Pricing Information:   $27 per seminar or $40 to attend both.


Time and Career Mastery :
Office Hour Facebook Chat Discussion
March 5-7,2012  (M-W)
Laura Lee Rose has been featured on television interview to discuss both time and career mastery in today's economy.  Here's your chance to explore custom options that  fit your goals and desires.  Use these personalized office hours to chat about your interests.
Do you need more time to:
Learn a new skill
Start a side business
Exercise
Travel
Follow-through on goals, commitments and resolutions
Volunteer
Read and self-study
Have fun with hobbies, friends and family
One chat session CAN change your life…..    Register today to reserve your space

(If link doesn't work, cut/paste http://professionaldevelopmentchats.eventbrite.com )
Learn More....
Simply become facebook friends with Laura Lee Rose and Rose Coaching.
Register for the specific office hour, and simply start your CHAT with Laura Lee Rose at the appropriate time slot.
Bonus for registering:
6 Week Audio Series on the Corporate Exit Strategy series: 

You Have More Power Than You Know

($195.00 value at no cost)
Preview of the Seize the NOW audio series (eBook and audio preview)
Submit Your Questions ahead of time & Get Them Answered LIVE with a free personalized coaching session Q&A just for you
Submit your questions now and you will get a free 30 minute personalize time mastery coaching session.
What is Coaching?
Coaching is a professional service providing clients with feedback, insights, and guidance from an outside vantage point. Coaching is a collaborative process that offers clarity, focus and support for your dreams and goals.  The profession of coaching is similar to the practice of a physician, attorney, or psychologist. Coaching can help you get organized and manage your life to have, be or do whatever you want with joy and ease.  The major difference is that coaching is an on-going collaborative partnership built on taking action. In this powerful alliance, clients find themselves:
Doing more than they would on their own
Taking themselves more seriously
Creating momentum and consistency
Taking more effective and focused actions
Becoming more balanced and fulfilled
People hire a coach when they are making a career transition, starting a new business, feeling dissatisfied, re-evaluating life choices, or simply looking for personal and professional breakthroughs.
Our programs covers the following topics:
Family time issues
Teen time issues
Couples time issues
Managing time to eliminate stress
Finding play time
Increasing effective performance thru efficiency
Increasing effective leadership with time and project management skills
Creating a time savings account
Managing clutter and disorder to save time
Effective communication techniques to save time
Efficient meeting management to save time
Proper ground rules and expectations to avoid difficult conversations
Schedule A Chat