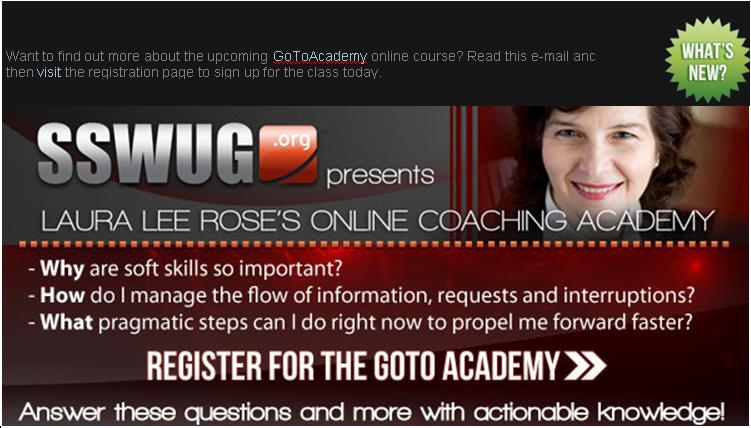 The GOTO Academy is not just another one-time training class with little or no useful information. It is a COMPREHENSIVE LESSONS LEARNED membership series with real-world, real-time and right NOW answers. Examples are taken from real IT situations and as such is constantly being updated.
With just 10 minutes a day, you can change your world. The GOTO Academy is structured with quick eBooks, 5 minute videos and articles packed with tips and techniques proven in today's IT environment. Weekly assignments and exercises allow you to incorporate these lessons-learned behavior through daily practice. Office-hour face-book chat room and email discussions provide consultation during your regular work hours. The intent of this innovative series is to blending it into your every-day and take advantage of your work breaks.
Full SSWUG members sign up now and receive a discount on the first 2 months.
Learn more about the training and register today.

About Laura Lee Rose
Laura is a certified efficiency and business coach who offers one-on-one career and life coaching, small group coaching, seminars and workshops. She has been in the software and testing industry for more than 20 years. She's worked with such international companies as IBM, Ericsson, Staples, Fidelity Investments and Sogeti in various client advocacy and project management roles.The techniques Laura uses in her business coaching and client advocacy work saved these companies both time and money, which resulted in on-time, quality product delivery with higher client satisfaction. She now uses her client focus, project, quality and people management skills in her business and personal life coaching career.
Find out more about Laura.